So it's the most jury rigged setup I've had but it's also the most ergo correct I've had too.  We'll see how long it lasts before I break down and copy tux's setup.  In the mean time it's good to be back.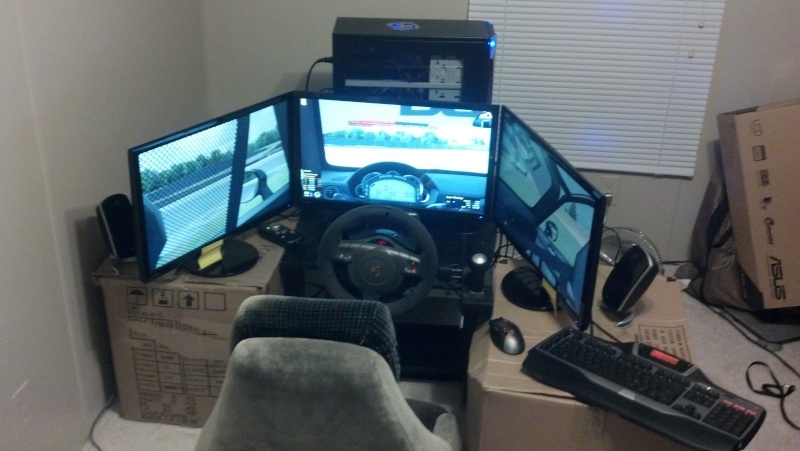 Posts

: 408


Join date

: 2012-03-03


Location

: AL



Hellz yeah brotha!!  Welcome back.

_________________
Waitress: Hi, can I get you two a drink?
Starsky: You sure can sweetheart. Johnnie Red neat, ok? Do it. Do It.



Posts

: 1121


Join date

: 2012-02-14


Location

: Pennsylvania



I envy anyone who has 3 monitors and isn't using a computer chair and computer desk to race on. If I ever get enough space, I will build a rig of my own!



Posts

: 759


Join date

: 2012-02-18


Age

: 36


Location

: Wisconsin



I have one big monitor and a couch. It might just happen to be in my living room...

Admin




Posts

: 1252


Join date

: 2012-02-13


Age

: 31


Location

: East Texas



GREAT! so when can we all race together?
_________________



Posts

: 262


Join date

: 2012-02-17


Age

: 34


Location

: Minneola, FL



Great question Josh.  I will most likely be down to race anytime I'm on.  I tried running one race and immediate got crashed out (didn't even make it through turn 1).  So I'm in re-learn mode this season in an attempt to keep my safety rating and irating from going into a death spiral.

Rem, I'm using 2 boxes, an old tv stand and a used car seat that I paid $50 for.  It's not perfect but so far it beats my old desk setup.  My point being I guess is if you do find the space it can be done for cheap, if you don't need it to be pretty.



Posts

: 408


Join date

: 2012-03-03


Location

: AL



I think I could make the space, but it would be tight. And not just any tight, tighter than a gnat's asshole tight. But I acquired a 2nd used 14 inch non-widescreen monitor, so I can now entertain a triple monitor setup. Just a matter of finding out how exactly to do it, and getting the cables. Oh, then cutting a hole in my computer desk for the left one to fit.



Posts

: 759


Join date

: 2012-02-18


Age

: 36


Location

: Wisconsin



---
Permissions in this forum:
You
cannot
reply to topics in this forum