Oh. Oh my. Oh my oh my. I love this stuff! Caution, these two forums contain thought-provoking content:
http://www.forzacentral.com/forum/fm3-photomode/36042-all-possible-incredible-fm3-photos.html
http://www.gamefaqs.com/boards/948030-forza-motorsport-3/60704653
Who notices what's not possible in-game?
The picture above is a 2002 Camaro sitting on G.M. A-molds (complete with 275/40-17 front & 315/35-17 rear rubber) from the 1996 Corvette Grand Sport. This may be from Forza 3 but there are a few computer savvy folks who are tackling hybrids. On the second website listed, pez2k_ noted he pillaged other games for data and brought some things to the Forza franchise. He even pillaged information from Forza 1 and Forza 2 and brought it over to Forza 3.
This is what I did in G.T. through G.T.3, first with a GameShark on the PSX editing the hexadecimal values, then with a SharkPort and a computer program on the PS2. The computer program was easier, utilizing drop-down menus to select what parts to equip on a car. Every stock and upgrade piece had a separate value so it was possible to put other manufacturer parts on any other car. I created realistic cars like a 4.6L Mustang equipped Miata (a 5L wasn't available) and called it the Monster Miata. I also powered the (then) late model Camaro Z28 with the LT-5 to create the ZR-28.
From what pez2k_ says on gamefaqs, editing cars in this manner is 98% available. There's essentially a "don't let the user do this" box checked. If these options were unchecked we could be doing a lot more. Pez also makes note that proper turbocharger spool is modeled but not taken advantage of. Milky says on forzacentral that he'd love for everyone to be able to do what he is doing.


Okay, so this sort of stuff has been let out of the bag. There cannot be any valid reason why Turn 10 wouldn't allow us to do more come next game. It's crap like this which pisses me off. So what has been found is saying, "This game totally kicks ass! Though, sorry. We won't allow you to extract everything out of it."

If what Turn 10 calls Forza 4 had these features included, I would definitely upgrade my Forza 3.5342917… ( 2pi × 9/16 ) rating to Forza 3.9269908… ( 2pi × 5/8 ).




Posts

: 1324


Join date

: 2012-02-14


Age

: 40


Location

: 60/40 between Sears Point and Laguna Seca, CA



LOL Thats all I have to say



Posts

: 110


Join date

: 2012-02-14


Age

: 33


Location

: Crawfordsville, IN



I remember all this on the older GT games. I think its totally cool, but I also see why they wouldn't allow it.

If it was allowed, there would have to be some sort of designation that this car is not 100% a Camaro/Mustang/Supra, etc. I know I sure as hell would not want to go online and race against a "Camaro" thats really an LS7 powered Z06 Vette and chassis.
_________________



Posts

: 717


Join date

: 2012-02-14


Age

: 32


Location

: Phx, Arizona



I totally agree with your second paragraph, Stalker.
I enjoy racing hybrids though I wouldn't want any online stealth to crunch me from my blind side. There would have to be some kind of renaming code to reflect equipment on the car, E.G. LS1 1994 Miata or LS9 1970 Buick GNX. Maybe there could be an official stats sheet for every car in your garage? When racing online this stats sheet could be available for competitors to read.
The existing performance index can clear some of the cloudiness, as a Miata in R3 class you'll have to be somewhat aware that it is far from stock. I'm rather impressed actually. These guys are building hybrids and Forza's P.I. system is taking changes in stride. One of those pages even shows pez2k_ pulled engine data from Shift 2, incorporated it into Forza 3, and Forza's performance index takes that change into account.
Notice the power curves are more dimpled, like in real life. Turn 10 flattens the irregularities for Forza Motorsport's power curves.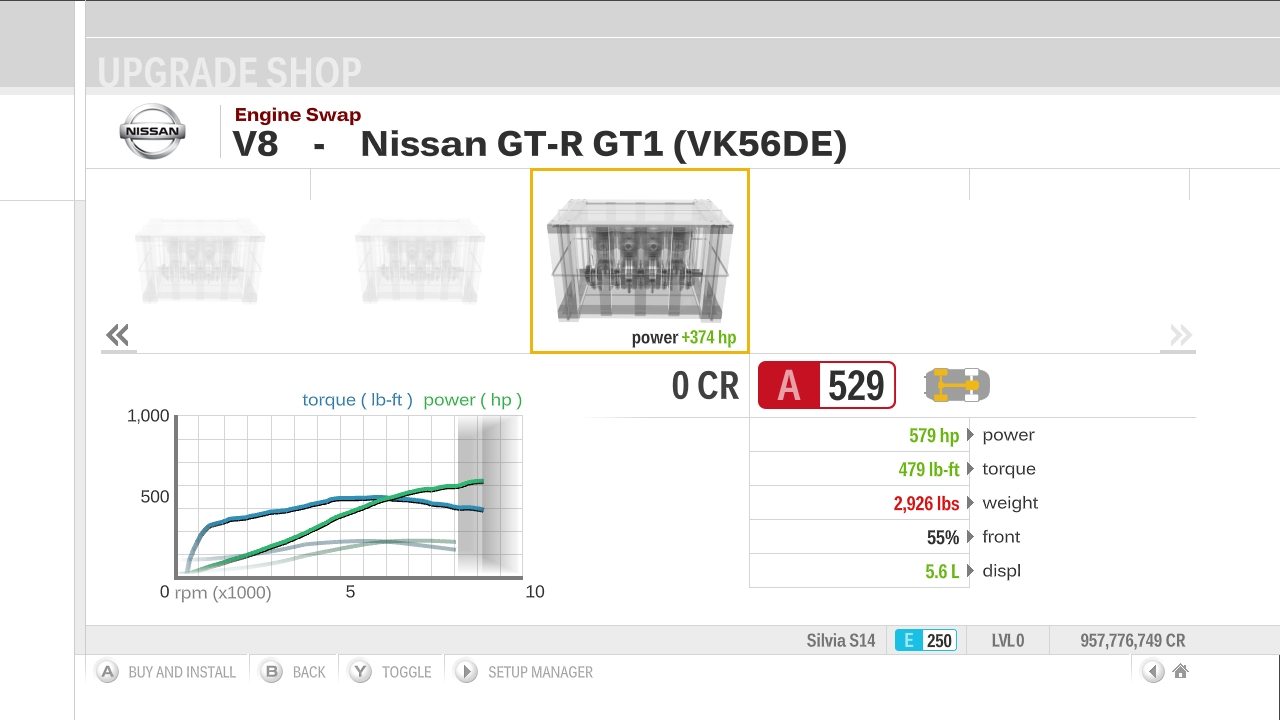 Posts

: 1324


Join date

: 2012-02-14


Age

: 40


Location

: 60/40 between Sears Point and Laguna Seca, CA



Or 08 Viper V10 powered Lotus Elise? TT with over 1000hp?
_________________
Win The Day! I love my Ducks!



Posts

: 943


Join date

: 2012-02-15


Age

: 34


Location

: Oregon



From this site: http://www.gamefaqs.com/boards/948030-forza-motorsport-3/60704653?page=11
pez2k_ wrote:… Here's something interesting I've put together. Forza 2, 3 and 4 use the same game database, just with updates and additions where needed. This means that every car has its own ID, which can reasonably be implied as the order they were added to the car list. Of course, this doesn't necessarily mean that the order is 100% true, or that the cars were modelled in this order, and so on, which is why I haven't posted it on the higher-traffic FM4 board in case people draw too many conclusions. …
He's sharing a Google docs file, also found on the above listed site (3rd post, 3rd paragraph). So every car has its own ID. Hopefully more efficient coding is coming for the next version.



Posts

: 1324


Join date

: 2012-02-14


Age

: 40


Location

: 60/40 between Sears Point and Laguna Seca, CA



---
Permissions in this forum:
You
cannot
reply to topics in this forum