I'm a glutton for punishment...and for children acting tough on Xbox live...namely the custom race section of Forza 4. My personal favorite are the "cruises" that take place...usually on the old lemans circut with a bunch of people who do nothing more than shoot up and down the straights...now dont get me wrong...I love going as fast as I can and that track is perfect for it...what I really love is the arguments that ensue.
The best example I can think of is one that I just got out of..."JDM Cruise" was the title...so I figured I would be in for a few laughs...funny thing was, the joke was on me. Not only did the creator of the room not understand what JDM stood for (Japanese Drag Meet ya see), no instead what happened was when the creator of the room switched the car selection over to nothing but Japanese cars, then people got upset when they couldn't use their Acuras and their Infinities, their Lexuses and so on...because they're techically "American" brands...but that's ok...because my Lexus IS300 is made by Nissan, which makes it all better...

But that doesn't matter...what matters is when they switched it back to all makes, and someone decided to grab a Saleen...well well then all hell broke loose. Not only were there threats to kick the lad, but when I pointed out the insanity due to their anger at Mr. Saleen driver they had overlooked that one of the other guys was planning on taking a 2003 Mitsubishi Eclipse...now I don't know how well you fellas know your auto makers and where they send cars, but they didn't believe or chose not too believe that Mitusbishi has never sold an Eclipse in Japan itself...because JDM stands for Japanese Designed Motors you see...so I was the fool, because I didn't realize that even though the 2003 Eclipse has more in common with the Chrysler Sebring than it does the Mitsubishi Lancer it doesn't matter...who cares if it was an American car, for American consumers, never destined for the roadways of Japan...oh, and Mr. Eclipse then chose to inform me that the Chevrolet Corvette, a car that I know deep into my bones is made in Bowling Green, Kentucky, is actually made in Mexico and Canada...Ha...glad I learned that!
_________________



Posts

: 575


Join date

: 2012-02-15


Age

: 30


Location

: S. Minnesota



Maybe abortions aren't that bad after all.

No, just kidding, they're terrible.

But the generation of kids growing up now, the first to have been raised completely by digital parents, seriously have me worried. They spent more time in front of the tv and video games, they were taught not to ask too many questions, and their patents viewed the digital gadgets that they only had as a luxury growing up as a substitute for actual parenting.

They forgot what their parents had done, and thought that the.new digital world would do the hard work for them. Unfortunately, kids have become accessories of status symbols to many people of my generation. I am grisly sad about how. little today's children know of the real world.

I can sympathize with the mentality of wanting to preserve the magic and simplicity of youth, but there is a direct link between that mindset and the downturn of our society. Many people today do not understand that childhood is not meant to be a time of nothing but fun and games, but rather a time of teaching and learning and preparing. You don't wake up on your 18th birthday and suddenly understand everything.

I blame the parents. And God help us if more people don't wake up.
Admin




Posts

: 1252


Join date

: 2012-02-13


Age

: 31


Location

: East Texas






Posts

: 759


Join date

: 2012-02-18


Age

: 37


Location

: Wisconsin



Smus, you managed to find the 8-year old Internet tough guy huh? Hey Rem., does he get XBLive points for that achievement?
Someone believes Corvette is made in Mexico and Canada? Ignorance most certainly is bliss. They must have been confused with practically every other Chevrolet model except Corvette. Kudos if you know this answer: Where was Corvette assembled prior to being assembled in Bowling Green? Hint, the change occurred in June of '81. I bet Mr. Eclipse would be befuddled by this question, befuddled akin to being placed in a round room and ordered to pee in a corner.
Ah yes, global corporations choosing to send (or not) models to other countries. My brother was at a car show some years back. There were guys in attendance who didn't know the U.S. Acura RSX was the Japanese Honda Integra. These guys thought the car models (in Forza, Gran Turismo, and in real life) were erroneously badged. Wow! A dozen is an error, even two-hundred is an error, but thinking the whole fleet plus the digital recreations are marked in error? Jimminy Cricket! Seriously!?
It also extends beyond the children of these recent generations; ignorance and stupidity are running rampant. Case in point, my brother and I went to the S.F. Int'l Auto Show when the Saturn Sky & Pontiac Solstice were being introduced. I believe we were visiting Pontiac at the time. Anyway, the docent, the "expert" G.M. hired to talk about the car, didn't know the Solstice was built on the Kappa chassis and was shared with the German Opel GT. He vehemently declared the cars were new and weren't built on a shared platform. People just aren't awake and/or even worse, simply don't care. These are reasons for the spread of misinformation or false statements being passed off as true.
I wish I could keep a cinder block in my pocket. Henceforth, every "sleepy" person I encounter, I'd pull it out, slam it against their forehead and ask if they woke up or if I should do it again.
I don't ride a motorcycle though a few of my go-kart coworkers did. I heard stories of them encountering sleepy/boneheaded drivers who would put my coworkers' lives at risk. The cyclists would carry dead D & C cell batteries in easily accessible jacket pouches and would let a battery fly at the vehicle's windshield or grille. I would have figured a way to squirt brake fluid onto the offender's car. If you don't know, research what brake fluid does to paint. Now imagine a spray pattern shot onto a car traveling at highway speed would do. If the car owner hadn't the foggiest notion as to what was just applied to their car, let's just say that is an expensive fix.
Regarding the inbred daughter brands (Acura, Infinity, Lexus, Scion, etc.), I call them U.S. domestic (Honda, Nissan, Toyota, etc.) At the end of the day their parent company, the one shored on Japanese soil, is the one reaping the profits and are the ones interested in whether one of their existing models would sell well in the states or if they should let their inbred daughter brand come up with a model of their own design and sell it here only.
I categorize them as Japanese auto manufacturers because (example) without Honda, Acura wouldn't exist. If Acura did exist but Honda did not the model line would not be what it is today. A tangent would be when I used to blast SRT-4 guys simply calling the car a Dodge SRT-4. Um, no. What you bought is a trim option of a Dodge Neon just like "Trans-Am" is a trim option of Pontiac Firebird. Without the model the trim wouldn't exist. I feel they couldn't admit (as a male) they bought a Neon.
Simcik wrote:Maybe abortions aren't that bad after all.
I am in favor of certain abortions, this one included, "Yer the load yer mamma should'uh swallowed!" Not anyone here, just the general rhetoric.



Posts

: 1324


Join date

: 2012-02-14


Age

: 40


Location

: 60/40 between Sears Point and Laguna Seca, CA



That's why I never talk in most lobbies on XBL, no matter what game I'm playin'

And as far as the SRT-4 goes, I just call it an SRT-4 just because I'm too lazy to say Neon.... that and most people I talk cars with know that it is in fact a Neon. It's weird how some people who own one don't wanna claim it as a Neon, I mean it's probably only "cool" Neon and I've seen some decent ones at some the open drag races around here. It's funny though, one of my friends in high school drove a Plymouth Neon but he would have preferred to drive his sisters old Volvo turbo wagon



Posts

: 94


Join date

: 2012-02-20


Age

: 30


Location

: Sacramento Metropolitan Area, CA



Love me some turbo Volvo wagon. I have a '98 Cross-Country though I wouldn't mind flipping it for an 850R, V70R, or a T5. Only requirement is a manual transmission, and I prefer AWD to FWD. At least with AWD there is the possibility of disconnecting the front axles (sealing the axle holes) and having it be RWD.
Then of course was the Volvo Jalopnik featured awhile back. It was for sale out of MA, equipped with an LS1 and the obligatory 6-speed manual.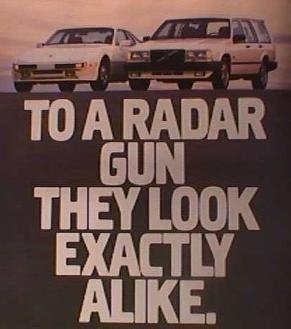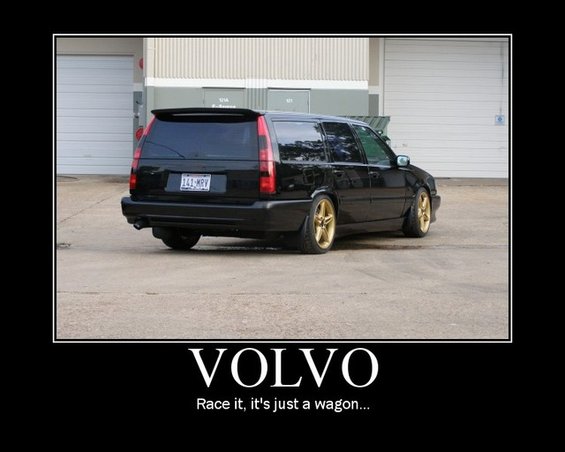 Yeah, it's too bad locally I encountered fanboys who live in denial. I'm sure many other owners would have readily admitted it was a Neon, these guys couldn't for whatever reason. Hey, I also drive a Miata, does that make me gay? No but that is the attached stereotype. I still tell people I drive a Miata and have no problems doing it.



Posts

: 1324


Join date

: 2012-02-14


Age

: 40


Location

: 60/40 between Sears Point and Laguna Seca, CA



What year Miata? lol

..and sure they're called "chick cars" but I just think that's just because they seem a little small. I mean I'm 6'2" (which is not super tall by any means) and still kinda have a tough time fitting right in some cars. Like one time I had trouble fittin' in behind the wheel of a Toyota Celica at 14 or 15 when I was only 5'10" or 5'11"



Posts

: 94


Join date

: 2012-02-20


Age

: 30


Location

: Sacramento Metropolitan Area, CA



The one in the game; a '94 R-package in Laguna Blue.

Hard top stolen last June 22, recovered by means of a civil standby courtesy of Foster City P.D.
Hard top stolen Jan. 30, just days after I got into the new place. Police report filed. Still looking.



Posts

: 1324


Join date

: 2012-02-14


Age

: 40


Location

: 60/40 between Sears Point and Laguna Seca, CA



---
Permissions in this forum:
You
cannot
reply to topics in this forum